Google regularly makes changes the layout of the search results page. Recently they announced a change to the way it displays Adwords ads which has an impact on all search results and continues the slow decline of organic search results visibility.
It will have a big impact not just for Adwords advertisers but for your search engine optimisation strategy as well.
What has changed
Previously, ads (max of three) were displayed at the top of the search results page, and in the right hand column.
Now, there will be up to four ads at the top of the page and up to three at the bottom of the page.
The right hand column which used to display a list of ads has gone. The ads will sit on top of the 'local pack' of results from Google places. Sometimes in that spot you'll see a 'knowledge panel' instead – most often in response to a question. Or you could see a product listing block.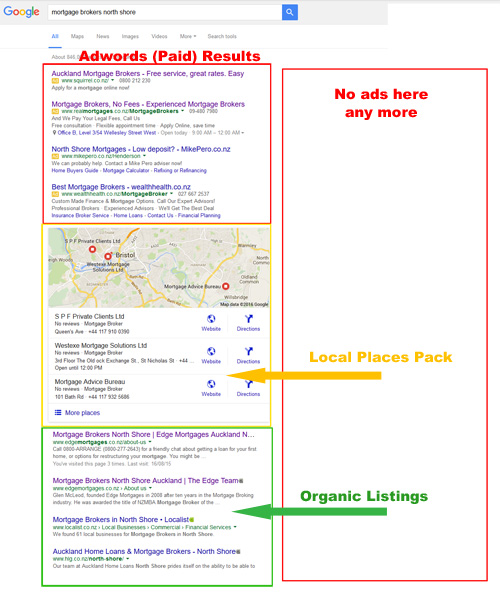 Google has said that a fourth ad will display for 'highly commercial queries' – i.e. those that include 'buy' or other phrases that suggest the searcher is not just in research mode but is ready to buy.
How a particular search result looks will vary depending on how many advertisers are using Adwords, and whether ad content shows site links and phone numbers. And not all search queries have ads in the results because no one is targeting their ads to those searches. But competitive industries (like 'home loans') and anything with a buying intent behind it (like 'buy laptop) sure will.
Supposedly, the reason for this removal of the right hand column is to align desktop and mobile experiences. Google maintain right hand column ads don't perform as well. I have to say I think this is a wasted opportunity. Plenty of people use desktop PC's and laptops and I wouldn't be surprised if we see a right column appearing again (you occasionally do see a place listing or product block).
Social media has seen a lot of discussion about the motivation for this move and the impact on Adwords advertisers – like an increase in the cost of a click – but what about organic rankings and SEO?
So - what about your organic search listings?
These changes have resulted in organic or non-paid search results ending up even further down the page. Quite likely to the point that they are 'below the fold' – ie below what is visible on a desktop or laptop without scrolling.
So unless you are in the top couple of spots, chances are your organic listing won't be seen. The effect will be even more pronounced on mobile devices.
Traditional organic real estate has been shrinking for years, thanks to features such as news, images, videos, local/map packs, featured snippets, etc. so it really just continues the trend.
This is a bit of a case of boiling the frog in our opinion - small changes that slowly erode the usefulness of Google for those that don't want to be presented with commercially driven results or only those businesses that can afford to compete for the top spot. And it potentially shuts out those small businesses and organisations who can't afford to compete in the ad space or for the top spot in organic rankings. It could be why we've been seeing a gradual increase in our clients search traffic from Bing and Yahoo.
The takeaway
The takeaway is that you can't rely on organic rankings to get visibility for what you are offering.
Organic searches will still play a part, especially for those phrases that indicate the searcher is in research mode. We've been seeing searches for generic phrases like 'builder', 'plumber' decline in favour of a wide variety of longer tail keywords for a while now, as people refine their searches to get more relevant results. So you'll need to expand your SEO strategy to target these if you haven't already.
And now more than ever your marketing should encompass a range of channels and tactics, including social, citations (i.e. reviews), paid advertising, email marketing, networking etc. And if you want to rank well for a range of organic searches, content is going to be critical.